The Rationale Behind Enmarket's Growth Spurt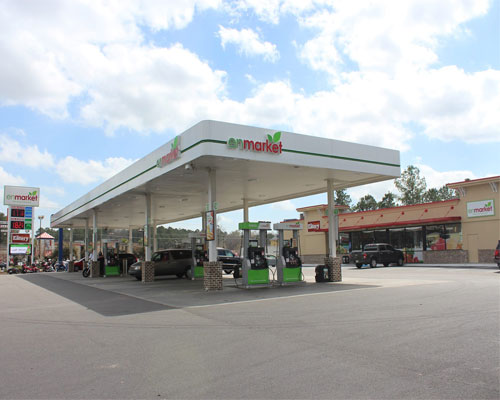 SAVANNAH, Ga. — Enmarket Stations Inc. is in the midst of a growth spurt.
The midsize convenience store operator will double its store count to 122 locations through the recent pickup of 34 sites from Bamberg, S.C.-based Brabham Oil Co., in addition to 35 sites from Glennville, Ga.-based Clyde's Market.
These moves come as Enmarket looks to expand its brand through both acquisitions and new-to-industry (NTI) sites, according to President Brett Giesick.
"Both acquisitions were opportunistic in terms of timing and location," Giesick told Convenience Store News during a recent interview.
Giesick — who formerly served as chief retail officer for Temple, Texas-based CEFCO Convenience Stores prior to joining Enmarket in February 2017 — said these acquisitions fit into the company's short- and long-term strategic goals by doubling its size in one year, while additionally "filling in" several markets sooner than expected via NTI builds.
"Longer term, it makes us more attractive for recruiting talent, becoming a more cost-efficient organization by leveraging our new size," Giesick explained. "It also forces us to drive more process through our organization to manage our new store count."
Enmarket took over the Clyde's Market c-stores in December 2017 after announcing the purchase agreement in September. The deal also included the purchase of Woodland Oil in Vidalia, Ga.
"The addition of Clyde's team members and locations will greatly enhance our presence in Georgia and create more density for us in central Georgia," Giesick said at the time of transaction. "The Clyde's organization and the Woolard family share many of our core values and ethics, as well as a shared passion for taking care of our customers and team members.
"Strategically, we believe this is a wonderful addition to our portfolio, and are grateful the Woolard family entrusted us with the business they have worked hard to grow over the years," he added.
Two short months later, on Feb. 6, Enmarket reached an agreement to purchase Brabham's c-stores, which are branded E-Z Shop and operate throughout South Carolina. Enmarket is expected to assume operations of these sites by mid-April.
The acquisition will strategically enhance its presence in South Carolina and further build the Enmarket brand in the Southeast, Giesick noted.
The company plans to invest significant capital into both chains, from reimaging to the Enmarket brand, to updating equipment and physical plants.
"Work has already begun on the Clyde's locations and we expect it to be completed in 12-15 months from now," he shared.
Once the integration is completed, Enmarket anticipates benefiting from its larger footprint, creating greater value from this new, larger scale.
Additionally, the growth will enhance the operator's designated market area (DMA) density, brand recognition and employee opportunity.
"From a customer perspective, guests will enjoy the bright and vibrant new Enmarket look and new product offerings," Giesick said.
Although he would not disclose whether Enmarket has any additional acquisitions in the pipeline, Giesick told CSNews that the company "plans to consider any reasonable opportunities moving forward."
Savannah-based Enmarket is part of Colonial Oil Industries Inc. It was founded in 1963 as Interstate Stations by Robert Demere and operated as such until 1990 when the name was changed to Enmark. In 2015, the retailer launched a rebranding initiative to better align with its commitment to fresh food and health, known now as Enmarket.
https://csnews.com/rationale-behind-enmarkets-growth-spurt?eid=364936201&bid=2048936