What's In Store: Enmarket, Rutter's & Love's
By Melissa Kress - 02/05/2021
NATIONAL REPORT — The convenience store industry landscape is constantly changing as chains open and close stores each week. On a regular basis, Convenience Store News highlights these comings and goings in this special roundup.
BUC-EE'S
Buc-ee's opened its second location in Alabama on Jan. 25. The store in Leeds, Ala., measures 53,250 square feet and features 120 fueling spots on the forecourt. Buc-ee's first Alabama store is in Loxley, and a third is planned for Athens.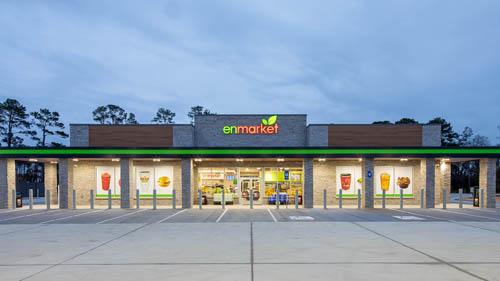 ENMARKET
Enmarket opened its latest new store Jan. 7 in Pooler, Ga. The new store at 1264 U.S. Highway 80 East is a travel center, serving both regular travelers and heavy truck traffic.
The new Pooler store is Enmarket's fourth in the west Chatham County municipality and the 128th store in the chain's network. The retailer's expansion in Chatham County began in 2020.
"Growth in the Pooler area called for an additional store, and it needed to be a travel center to serve the diverse demands in that area. You have the growing residential population in that area to serve, and that area of the county is also a pipeline into the Port of Savannah, calling for truck services," said Brett Giesick, president of Enmarket.
The new store offers The Eatery, Enmarket's signature kitchen offering hot food for all three dayparts as well as freshly made grab-and-go food options, bean-to-cup coffee and Mooz frozen yogurt. Checkout options include self-service register and Skip Checkout technology.
GARRET'S FAMILY MARKET
Garret's Family Market welcomed customers at its latest location on Cape Cod, Mass., on Jan. 23. The store in Falmouth is the retailer's third location. The banner debuted in January 2019.
LOVE'S TRAVEL STOPS & COUNTRY STORES
Love's welcomed customers at three new travel stops in January. They are in Huntington, Ind., Channahon, Ill., and Valley City, N.D.
The Love's Travel Stop in Huntington measures more than 8,000 square feet. It offers 41 truck parking spaces, 42 car parking spaces, four diesel bays, four showers, laundry facilities, a Mobile to Go Zone, and CAT scale. The location also features a Taco John's and a Fresh Kitchen concept.
The Love's Travel Stop in Channahon measures more than 15,000 square feet. It offers 91 truck parking spaces, 59 car parking spaces, two TV parking spaces, nine diesel bays, eight showers, laundry facilities, a Mobile to Go Zone, Speedco, CAT scale, and a dog park. It also features a Godfather's Pizza, Arby's, Chester Chicken and a Fresh Kitchen concept.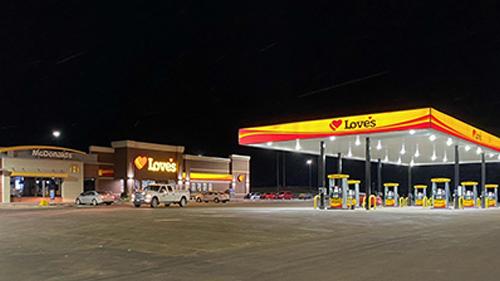 The Love's Travel Stop in Valley City measures more than 13,000 square feet. It offers 85 truck parking spaces, 100 parking spaces, three RV parking spaces, seven diesel bays, seven showers, laundry facilities, a Speedco, Mobile to Go Zone, CAT scale, and a dog park. It also features a McDonald's and a Fresh Kitchen concept.
Love's also opened seven new Speedco locations in January. They are in Madison, Ga.; Mayer, Ariz.; Mt. Juliet, Tenn.; Boron, Calif.; Marion, Ill.; Cordele, Ga.; and Tuscola, Ill.
RUTTER'S
Rutter's opened its 17th Video Gaming Terminal (VGT) room on Jan. 5. The VGT room in the retailer's Bellefonte, Pa., convenience store follows the opening of a VGT room the Middletown, Pa., Rutter's in December.
In conjunction with Marquee by Penn, Rutter's opened the first VGT room within a Qualified Establishment in Pennsylvania in August 2019.
"We're excited to be the first and largest chain of Qualified Establishments with VGTs in Pennsylvania," said Scott Hartman, Rutter's president and CEO. "Our company is always looking for ways to evolve our business, in an effort to better serve our customers. VGTs are something we plan to expand to more location in Pennsylvania to satisfy customer needs."
Rutter's VGT rooms are open 24 hours a day to those 21 years of age and older. There are five separate gaming machines, each offering a variety of games. In compliance with current COVID-19 restrictions in Pennsylvania, Rutter's recently re-opened all of their VGT rooms on Jan. 4 at 8 a.m.
TRAVELCENTERS OF AMERICA INC.
TravelCenters of America Inc. (TA) and franchisee Karam Singh opened a new TA travel center in Huntington, Ore., in early January.
Amenities at the 12,000-square-foot TA Huntington include 150 truck parking spaces, 40 car parking spaces, eight diesel fueling positions, 12 gasoline fueling positions, six showers, a fitness room, a driver's lounge, laundry facilities and Transflo scanning. The site also features a Champs Chicken, a Naughty Chile Taqueria and a travel store with fresh deli options.
A Huntington Bar and Grill is opening soon and a TA Truck Service center is planned for next year.