C-store Retailers Join Fight Against Human Trafficking
NATIONAL REPORT — Convenience store retailers across the United States are coming together in the fight against human trafficking.
Lisle, Ill.-based Clark Brands LLC, the Georgia Association of Convenience Stores (GACS) and the Georgia Bureau of Investigation (GBI) have all announced partnerships with national advocacy group IN OUR BACKYARD (IOB) for its Convenience Stores Against Trafficking (CSAT) nonprofit program.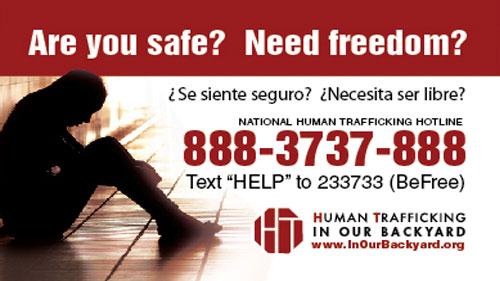 As part of Clark Brands' pledge to CSAT, it will provide education and awareness to more than 1,000 Clark and Crown locations.
"Clark Brands believes that our locations can join law enforcement, elected officials and non-profit leaders in the anti-trafficking movement and help disrupt human trafficking," stated Stacey Yimet, CEO of Clark Brands. "In addition to training our staff, Clark Brands is supporting CSAT with a donation so that this life-saving program can continue to grow."
In addition to employee training on recognizing and safely reporting the signs of human trafficking, CSAT provides Freedom Stickers, which contain the National Human Trafficking Hotline number to be posted in restroom stalls — often the only place a victim of human trafficking is alone and safe enough to reach out for help, according to a press release from Clark Brands.
Sara, a survivor whose story is featured in the CSAT training video, shares that she visited c-stores sometimes multiple times a day while she was being trafficked. "I wish IN OUR BACKYARD Freedom Stickers had been in bathrooms when I was trafficked a decade ago — I could have gotten out a lot sooner," she declares.
"Human trafficking — commercial sex or labor induced through force, fraud or coercion — is the second-largest and fastest-growing crime in the world. Traffickers exploit the most vulnerable who live in and pass through our communities, whether adults, teens or children," said IN OUR BACKYARD Program Director Juliana Williams.
"Convenience stores care about their communities and with more than 150,000 locations that serve half the U.S. population daily, they can be the eyes and ears in the community to spot human trafficking and save lives. We are so thankful for the support from Clark and Crown locations to be a part of the solution to this atrocity," she added.
The addition of Clark and Crown locations expands CSAT into a total of 47 states.
GEORGIA FIGHTS BACK
GACS announced its commitment to IOB at a press conference at the state capitol, which was comprised of GACS President Angela Holland; State Rep. Chuck Efstration; GBI Director Vernon Keenan; IOB Executive Director and Founder Nita Belles; Wellspring Living Executive Director Mary Frances Bowley; Matt Clements, director of marketing for Savannah, Ga.-based Enmarket; and Haley Bower, wholesale support manager/director of Flowery Branch, Ga.-based Clipper Petroleum.
"Convenience stores serve half the U.S. population every day, and as community hubs, we have the opportunity to be a part of the solution to end human trafficking by learning to recognize the red flags, especially as Atlanta will host the 2019 Super Bowl," Holland expressed.
Belles — who is an expert in the anti-human trafficking movement and author of two books on the subject — will be the keynote speaker for GACS' Southern Convenience Store and Petroleum Show in the fall. She is currently working with law enforcement, nonprofits, faith-based groups and businesses in Atlanta for IN OUR BACKYARD's 10th annual operation surrounding the Super Bowl.
"Convenience stores have been very supportive of our work for the past several years and we are so thankful to GACS and all the retailers in Georgia who are making a commitment to stand against the atrocity of human trafficking," Belles shared.
Enmarket was the first chain to partner with CSAT in Georgia in early 2017.
"By posting this information in our restrooms and training our staff, we have joined a nationwide movement that is saving lives of the most vulnerable in our communities. This clearly aligns with our mission to enrich life, so this is a natural fit for Enmarket," Clements said.
Clipper Petroleum's Bower added that the company has been dedicated to helping survivors of sex trafficking through the support of Wellspring Living for six years. "We are honored to take the next step through partnership with CSAT to equip our stores as human trafficking prevention centers," she said.
GBI noted that while the Super Bowl may be months away, the organization isn't waiting to start efforts to put an end to sex trafficking. According to law enforcement, it expects to see a significant increase in sex trafficking during the Super Bowl next year in Atlanta.
"Fair warning to child predators, we're going to be out there," GBI's Keenan said.
Atlanta turned north to Minnesota, the site of this past Super Bowl, to see what kind of problem it might face. Law enforcement in the state arrested dozens of men for trying to buy sex with a child during Super Bowl time, reported 11Alive.com.
Assuring that Georgia has "some very, very strong laws to protect our children" that "will be applied," Keenan said a large part of the crackdown will take place at local gas stations and c-stores, where clerks will be trained on warning signs and post flyers promoting the human trafficking hotline in bathroom stalls.
Convenience Stores Against Trafficking, a program of national nonprofit IN OUR BACKYARD, provides the only industry-specific training and materials to equip convenience stores to take a stand against human trafficking. CSAT has partnerships in 29 states, representing more than 12,000 locations.