Leading Consolidator Leads CSNews' 2018 Top 20 Growth Chains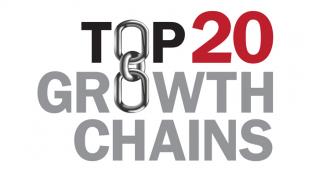 NATIONAL REPORT — Holiday Stationstores, Western Refining, Roadrunner Markets, PDQ Food Stores, Jet-Pep, Honey Farms, Flyers Energy, Pic Quik, Jiffy Stop, Sav-O-Mat, Wes-T-Go.
These are just some of the midsize convenience store chains that were sold and acquired in the past year, gobbled up by the 2018 Convenience Store News Top 20 Growth Chains.
Led by Laval, Quebec-based Alimentation Couche-Tard Inc. — which alone grew its U.S. store count by 23.4 percent between January 2017 and January 2018 — this year's top growth chains combined added 2,573 stores, equating to an 11.5-percent increase. What's more, they added nearly 1,200 more stores year over year than 2017's top growers. The 2017 Top 20 Growth Chains added 1,396 stores combined, equating to a 5.9-percent increase.
Couche-Tard is no stranger to the annual CSNews Top 20 Growth Chains ranking. In the seven years that this report has been published, the Circle K operator has earned a spot on the list six times — and each time, within the top six.
Couche-Tard is also no stranger to finding itself at No. 1 on the ranking. The first time was in 2016, when it acquired The Pantry Inc. and added 1,510 net new stores, growing its U.S. footprint by 39.4 percent. This past year, it acquired CST Brands Inc. and added 1,253 net new stores.
The 2018 Top 20 Growth Chains full roster includes:
Alimentation Couche-Tard Inc., Tempe, Ariz. (U.S. headquarters)
Andeavor Corp., San Antonio
GPM Investments LLC, Richmond, Va.
Kwik Trip Inc., La Crosse, Wis.
Casey's General Stores Inc., Ankeny, Iowa
CrossAmerica Partners LP, Allentown, Pa.
Yesway, Des Moines, Iowa
Stinker Stores, Boise, Idaho
Sunoco LP, Dallas
Exxon Mobil Corp., Irving, Texas
Wawa Inc., Media, Pa.
Reid Petroleum, Lockport, N.Y.
Global Partners LP/Alliance Energy LLC, Waltham, Mass.
Love's Travel Stops & Country Stores Inc., Oklahoma City
Murphy USA Inc., El Dorado, Ark.
Enmarket Stations Inc., Savannah, Ga.
Marathon Petroleum Corp., Findlay, Ohio
QuikTrip Corp., Tulsa, Okla.
Sheetz Inc., Altoona, Pa.
Maverik Inc., Salt Lake City
The exclusive CSNews Top 20 Growth Chains report is based on store count figures provided by TDLinx, a service of Nielsen. This is the seventh year that CSNews has partnered with TDLinx to identify the c-store retailers that added the most convenience stores in the past year. A convenience store is defined as a store that includes a broad merchandising mix, extended hours of operation and a minimum of 500 SKUs. Fueling stations with small kiosk stores do not meet the official definition and thus are not reflected in TDLinx's store count figures.
Stay tuned to CSNews.com for more in-depth coverage of this year's Top 20 Growth Chains.
https://csnews.com/leading-consolidator-leads-csnews-2018-top-20-growth-chains